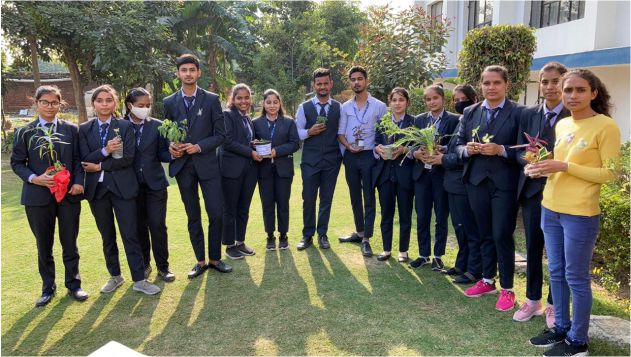 05 Dec 2021
To commemorate the "World Soil Day", Faculty of Life Sciences, IAMR successfully organized an event
To commemorate the "World Soil Day", Faculty of Life Sciences, IAMR successfully organized an event which included thoughtful presentations, meaningful posters and plantation of medicinally important plants in the campus by the students.
The event was graced by the presence of Shri Sanjay Bansal, Secretary, IAMR, Smt Anshu Bansal, Joint Secretary, IAMR, Dr. P. K. Vashistha, Director, IAMR and Dr. Fanish Kumar Pandey, Head of the Department, FLS, IAMR.
During the event, Dr. Fanish Kumar Pandey gave an insightful speech about the importance of soil conservation and its indispensability for life.
The Faculty members of IAMR Er. Rajya Vardhan Tripathi, Dr. Swati Tyagi, Dr. Neha Prakash Rai, Dr. Yamini Dixit, Dr. Monika Bajpai, Dr. Jyoti Tyagi, Dr. Divya Sharma, Ms. Shweta Tyagi, Ms. Neha Shukla, Ms. Neetu Saharan, Dr. Neha Gupta and Mr. Rahul Gautam actively participated in the organization of the event.
The students were awarded with prizes for participation in the event.