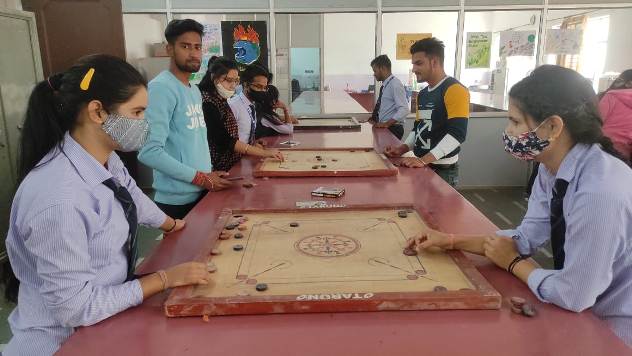 24 Nov 2021
Intra-departmental Sports Event- 24th Nov, 2021
The Biotechnology & Microbiology Society (BMS) under the aegis of Life Science, Institute of Applied Medicines & Research (IAMR), organised "Intra-departmental Sports Event" on November 24, 2021.The was graced by the auspicious presence of Sh. Sanjay Bansal, Secretary IAMR, Smt. Anshu Bansal, Joint Secretary, IAMR, Dr. Pradeep Kumar Vashistha, Group Director IAMR and Dr.Fanish Kumar Pandey, Head of the Department (HoD) Faculty of Life Sciences, IAMR. Dr. Fanish Kumar Pandey officially announced the opening of the Sports event. The main events were:
• Volleyball
• Carrom
• Chess
• Badminton
There is a great importance of sports for students. The sport teach discipline to students and also essential for them as they develop the spirit of sportsmanship. Apart from that they also provide pleasure to the students from the busy schedule of academics. Keeping in mind, the importance of sports, these events were conducted for the overall growth of students.
These events were also graced by the presence of all faculty members Er. Rajya Vardhan Tripathi, Dr. Swati Tyagi, Dr. Neha Prakash Rai, Dr. Yamini Dixit, Dr. Monika Bajpai, Dr. Jyoti Tyagi, Dr. Divya Sharma, Ms. Shweta Tyagi, Ms. Neha Shukla, Ms. Neetu Saharan, Dr. Neha Gupta and Mr. Rahul Gautam, who have also participated and motivated the students for active as well as healthy participation.
The students participated actively in each and every event with great zeal and enjoyed a lot. We are thankful to the management for providing their support for conducting such type of extra-curricular activities.